VACUUM TUBES TUBE TESTERS TUBE MANUALS HICKOK CARDMATIC WESTERN ELECTRIC
VINTAGE AMPLIFIERS VALVES NOS TRANSMITTING SWEEP RECEIVING CRT
HIGH END AUDIO MILITARY RADIO TELEVISION INDUSTRIAL
---
Welcome to TubesontheWeb.Com!

<![if !vml]>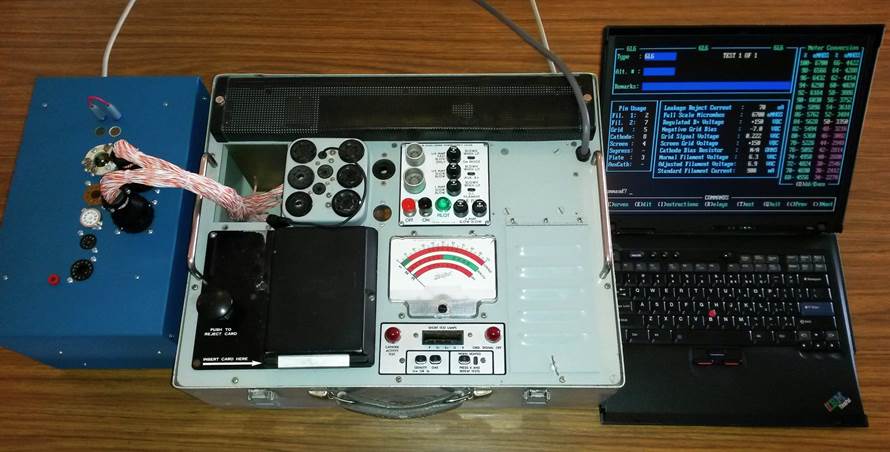 <![endif]>
<![if !supportLineBreakNewLine]>
<![endif]>
Do you have a lot of tubes to test?
Do you use or sell quality audio tubes?
If you answered yes to either of these questions, then you must check out this incredible Tube Tester (click here)!
WHAT'S NEW?
04-14-2016: Extremely detailed 273 page PDF added to the Design page.
03-14-2016: Database updated to fix low reading 12AX7 and related tubes. See the changes here.
02-20-2016: An IBM Thinkpad is now included free of charge with each system!
1-01-2006: The 10-pin miniature sockets, 7-pin Nuvistor socket, and Acorn socket are now optional. See the pricing page for details.
11-25-2005: Software Version 1.12 released. Use the links for Version 1.10 below to read about it.
01-09-2005: Software Version 1.10 released. See what's been added here. Also read about Undocumented Advanced Features.
12-16-2004: Web site updated, new information and pictures added.
08-05-2004: Now even more relay protection!
04-07-2004: Additional Relay Protection Circuit Added. See the Version 1.08 page for details.
07-22-2003: Tester software now supports Windows 2000/XP! See the Version 1.08 page for details.
Hardware revision history is available on the Software Version 1.08 page also.
---
All Contents Copyright © 2022 TubesontheWeb.Com, 208 Willow Ln Monte Vista, CO 81144  (719) 298-0868
---

06-21-2022